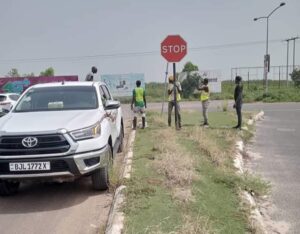 The National Roads Authority (NRA), is currently embarking on the installation of road traffic signs in the Greater Banjul Area as part of efforts to curb road traffic accidents/crashes on the roads.
Meanwhile, other strategic parts of the country will be covered as well in the not-long-distant future.
The new traffic signs which number over 170 and were purchased by the National Roads Authority –NRA, will be installed at different strategic locations of the country geared towards minimizing road traffic accidents.
Momodou Senghore, managing director of the National Roads Authority, explained that his office will do its utmost best in ensuring that roads in the Gambia are of quality and meet safety standards.
He described the development as a big achievement for the government and all the stakeholders in road safety.
He said that more such developments would continue in the near future, saying that road safety should be everybody's business.
Director Senghore further calls on the general public to desist from tempering with these signs installed on the highways, saying they are there for the safety of all and sundry.
Currently, the Gambia is ranked high among countries in the world where road accidents/crashes are recorded. Reports from the police have revealed that from January to date, over 681 accidents have occurred in the Gambia, with over 100 fatalities.