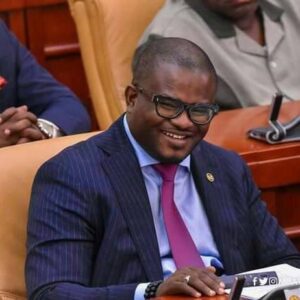 Ghana's beleaguered deputy finance minister Charles Adu Boahen has been sacked by the country's president Nana Akufo-Addo, a statement from the presidency confirmed on Monday.
Boahen's dismissal came shortly after a meeting with President Nana Akufo-Addo over corruption allegations levelled against the minister in recent weeks.
The sacked deputy minister who has not commented publicly about his removal, would also be the subject of an investigation by a soon-to-be appointed prosecutor, according to the presidency.
It said the minister's removal had a direct bearing on his alleged role in a scandal involving small-scale artisanal gold mining in Ghana.
The country is Africa's second-largest gold producer.
There have been persistent calls by the public for Boahen and his boss, finance minister Ken Ofori-Atta to go.
This follows a damning report by Ghana's foremost investigative journalist Anas Aremeyaw Anas which exposed details about Boahen taking bribes from mine investors in exchange for being given the greenlight to operate without being subject to industry regulations.
His boss Ken Ofori-Atta has also been heavily bashed by MPs for corruption with calls them for his dismissal by the president.
Ghanaian MPs believe he had presided over a "disastrous management" of the national economy which has hit its lowest levels in many years.
Ghana's biting economic challenges epitomized by the rising prices of basic commodities like food and fuel prompted citizens to take to the streets on November 6, demanding President Akufo-Addo's resignation.
(APA)