NPP's Alhagie Mbowe has apparently found no issue with the Gambia's National Assembly giving the House Speaker an attractive salary and allowance package, telling Coffee Time that the Speaker deserves to live as a man of his station.
He added that legislators also deserve robbing allowance to enable them keep pace with their equivalents in other countries, fashion-wise.
"Zambia pays their parliamentarians $4000 per month. Senegal pays four times than The Gambia," the Lower Saloum MP argued as he attempted to make a case for the Speaker and legislators, who voted for the top-ups.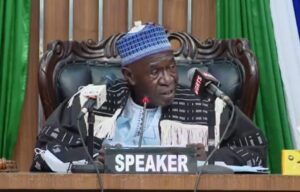 Speaking to Coffee Time this morning from the Ethiopian capital, Addis Ababa, where he's currently attending a continental tech conference, Hon. Mbowe said: "I'm here with two other colleagues but look at how other parliamentarians dress."
He also made a case for the Speaker who, he said, is deserving of an attractive pay and emolument package to enable him live according to his exalted status.