I am presently engaged in researching for a book that I am writing on Gambian names and one of the institutions that I approached for that research was the Independent Electoral Commission (IEC). I personally contacted the Vice Chairman, Mr. Joe Colley, for access to the voters' list, which I was convinced was the most appropriate document that would contain virtually all Gambian family names.
However, even though he confirmed to me that it was a public document, but he insisted that I had to formally write to the Chairman to request for the IEC to grant me access to it.
While I was disappointed that getting access to a public document would involve such bureaucracy, but I was still convinced that it just a formality and I had no doubt that I was going to be given access to it.
I went ahead to write a letter (below) to the Chairman, and to my surprise and disappointment, I received the following reply denying me access to the list on the pretext that "the whole or part of the voters' list carries personal details of Gambian electorates."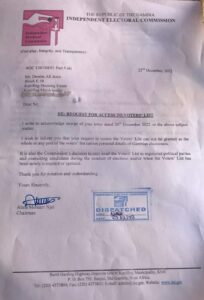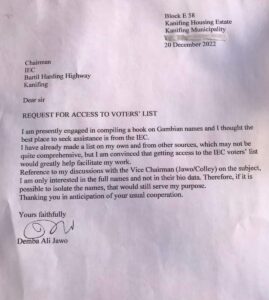 The reply went on to state that "It is also the Commission's decision to only avail the Voters' List to registered political parties and contesting candidates during the conduct of elections and/or when the Voters' List has been newly compiled or updated."
Therefore, in view of being denied access to a public document, I have decided to put this in the public domain and listen to what the views of people are on the issue. May be I should apply to contest in the forthcoming local government elections just to gain access to the list and then withdraw.