Press Release Dated: 20th January, 2023
Update on the Funeral Arrangements for Late Vice President Badara Alieu Joof
The Gambia Government wishes to update the public that State Funeral arrangements for the late Vice President (VP), Badara Alieu Joof are progressing accordingly.
The body of the late VP is expected at the Banjul International Airport (BIA) Saturday evening, 21st January, 2023 to be received by The Gambia Armed Forces (GAF), who will escort it to the mortuary at the Edward Francis Small Teaching Hospital (EFSTH) in Banjul. There will be a vigil at the mortuary until Monday morning, when the corpse will be moved to the National Assembly (NA) to lay in state for mourners to pay their last respects.
His Excellency President Adama Barrow is expected at the National Assembly by 9:30am GMT for the official eulogies. Therefore, invited guests and members of the media are requested to be seated at the National Assembly grounds by 8:30am.
Subsequently, the casket will be transported to the Banjulinding Mosque for the Islamic "Fidaw" prayers before final internment at the local cemetery where the late Vice President, His Excellency Badara Alieu Joof will be laid to rest next to his mother's grave.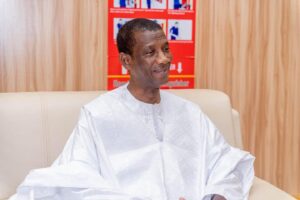 The Gambia Police Force will provide additional security throughout the funeral process including the regulation of vehicular traffic and management of congregation at the late VP's residence.
May the Almighty Allah continue to reward former VP Badara Alieu Joof for his impressive legacy and good deeds in positively touching and impacting lives within and outside The Gambia.
Signed
Ebrima G. Sankareh
The Gambia Government Spokesperson & Presidential Diaspora Adviser