I wish to join the thousands of other Gambians and non-Gambians alike to extend my condolences to President Adama Barrow and his administration on the demise of our beloved Vice President, Badara Alieu Joof. His death had been mourned by everyone across the political and social divide in this country, which was an indication of the type of personality that he was.
Now that the seven days period of national morning is over, everyone is anxiously waiting for President Barrow's choice for the next VP. Of course it would not be easy to find someone who would fill VP Joof's shoes as he had all the qualities of a level-headed VP, including avoiding politics and concentrating on delivering on his mandate to serve all Gambians regardless of their political affiliation.
Speaking during a visit to VP Joof's family on the day of the funeral, President Barrow said he would never again appoint anyone as VP who would aim to replace him as head of state, which declaration seems to rule out some of his allies like the Minister of Tourism and Culture, Hamat Bah, who, as leader of the NRP, no doubt has presidential ambitions. It has also ruled out the heads of the other brief-case parties affiliated to the NPP.
Of course President Barrow had a valid point there because if he appoints someone who has the aim of replacing him as president, it is very likely that such a person would do anything possible to either make him unpopular or wish that his tenure ends early so that he/she would have the chance to replace him. The late VP Joof quite well fitted such a choice as he was a technocrat who had no interest in politics, let alone want to replace him (Barrow) as president.
Another high expectation amongst many Gambians, particularly the women folk, is that this is an opportunity for him to rectify the mistake he made the last time and appoint a woman to the position which is naturally seen as theirs. It certainly makes quite a lot of sense to stick to the convention that if the head of state is a man, the next in command should be a woman. It was therefore quite a disappointment to many people that when he formed his last cabinet, he replaced Dr. Isatou Touray with a man.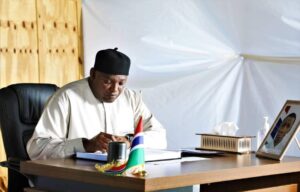 To add salt to the injury, he also chose Fabakary Tombong Jatta as Speaker of the National Assembly to replace Mariam Jack-Denton, thus denying the women any such high stately positions. That was seen by many people as a retrogression with regard to the government's gender mainstreaming policy.
There are certainly many women with all the qualities to serve in the position and as such, there is no justification in denying them that opportunity.