Several children have been injured after a railing collapsed on Thursday at a stadium in the Sierra Leone's southern city of Bo where President Julius Maada Bio and First Lady, Fatima Maada Bio were holding an event to distribute free sanitary pads.
The President who has extended his sympathy to the families of the children affected said medical team were working assiduously to administer medical attention to the injured.
According to a government statement, the railing collapsed when a short section of metal guardrail on one of the levels of the stadium came apart. Without disclosing the number of injured, the statement said no deaths had been reported.
As part of a nationwide distribution process, targeting 60,000 beneficiaries, the First Lady has been distributing free sanitary Pads to school girls across the country since 2021.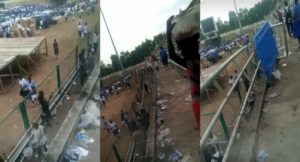 This year's presidential, parliamentary and municipal elections have brought women's issues at the top of the agenda, especially on economic participation, and educational opportunities. Parliament has recently passed series of legislation aimed at bridging the gender gap.
(APA)