Ruling party candidate Bola Tinubu has been declared the winner of Nigeria's disputed presidential election.
The 70-year-old veteran politician got 36% of the vote, official results show.
His main rival Atiku Abubakar polled 29%, and Labour's Peter Obi 25%. Their parties had earlier dismissed the poll as a sham, and demanded a rerun.
Mr Tinubu is one of Nigeria's richest politicians, and based his campaign on his record of rebuilding the biggest city, Lagos, when he was governor.
He was nevertheless defeated in the city by Mr Obi, a relative newcomer who mobilised the support of many young people, especially in urban areas, shaking up the country's two-party system.
Mr Tinubu won most other states in his home region of the south-west, where he is known as a "political godfather".
He campaigned for the presidency under the slogan: "It's my turn".
President Muhammadu Buhari is stepping down after two terms in office, marked by economic stagnation and growing insecurity around the country – from an Islamist insurgency in the north-east to a nationwide crisis of kidnapping for ransom and separatist attacks in the south-east.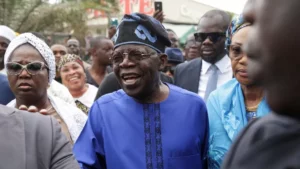 Mr Tinubu now has the task of solving these problems, among others, in Africa's most populous nation and biggest oil exporter.
(BBC NEWS)