Over 10,000 supporters of Senegalese opposition leader Ousmane Sonko massed at a field in the capital Dakar on Tuesday, the first of three days of planned protests in support of the aspiring presidential candidate, who faces a libel case set to resume this week.
The demonstrations are the latest expression of growing tensions in Senegal in the run-up to a 2024 election that could see President Macky Sall vie for a controversial third term, which the opposition says is unconstitutional.
Sall, 61, has neither confirmed nor denied that he plans to run, amid widespread speculation. The election would pit him against an opposition field led by Sonko, who came third in the last election but has since gained clout, particularly among disillusioned urban youth.
Senegal adopted constitutional revisions in 2016, which among other things reduced presidential terms from seven to five years.
Sall was first elected in 2012 for a seven-year term under the old constitution. He won re-election in 2019 and some supporters have made the argument that he could run for another under the new constitution.
Sall has declined to comment on his intentions for 2024.
"Macky Sall holds the peace of the country in his hands. If he comes out and says that he is not a candidate, the country will be at peace, we could stop the protests," said Codou, a protester who travelled from the nearby city of Thies.
Sall's opponents accuse him of seeking to weaken the competition with false accusations and political trials ahead of the election. The government denies this.
Sonko, 48, is due in court on Thursday to resume hearings for a trial on libel charges for allegedly accusing the minister of tourism of embezzlement.
Sonko is also facing trial on charges of rape and making death threats to a beauty salon employee in 2021, which he denies.
"We are denouncing a great injustice. Sonko is hope for the youths. Macky Sall just wants to push away Sonko. He'll do everything to stop Sonko from running," said Sonko supporter Khadidatou Faye. "We'll not accept that injustice. It will be Sonko or nothing."
Faye and thousands of opposition supporters milled around a field in Dakar's Yoff neighbourhood on Tuesday, waving Senegalese flags and photos of Sonko, who arrived in the field atop a vehicle in a convoy, greeted by cheering supporters.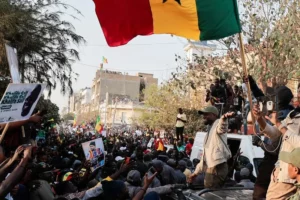 Sonko urged his supporters to join him in court on Thursday for the libel trial.
There was a heavy security presence in the area, including dozens of anti-riot vehicles.
Police are quick to crack down on protests in Senegal. The last pro-Sonko protests, which broke out after he left court last month, were dispersed with tear gas.
Senegal has long been seen as a beacon of democracy in West Africa. But critics have become frustrated with Sall's crackdown on dissent and his perceived failure to improve economic livelihoods for the majority of people.
Deadly clashes broke out across the country in 2021 after Sonko was arrested over the sexual assault allegations.
(Reuters)