The Mayor of the Kanifing Municipality Council, Mayor Bensouda, yesterday congratulated Gina Bass for yet another astounding performance on Sunday at the Douala International Athletic Grand Prix.
Held at the Stade Omnisport De Bepanda in Douala, southwest Cameroon, Africa's tract queen clutched gold medals in both the 100 and 200 dashes for the female category.
Gina Bass reached the finish line in 11.1 seconds. Burkina's Toureh Madinah (11.5) came second while Nigeria's Nde Thompson came third (11.6)
Gina again stunned fans in the 200 meters as she dashed ahead of his opponents, reaching the finish line in 23.2 seconds. Toureh Mandina and Nde Thompson also came second and third again in the 23.6 and 24.0 seconds.
Reacting to the breakthrough, Mayor Bensouda said: "Whilst also being recognized and awarded as the outstanding athlete of the competition, Gambia please join me in celebrating one of the prides of our nation.
"It is in moments like these that we can see how investing more resources in youth development and in sports activities is absolutely essential to create more Gina Basses in our communities."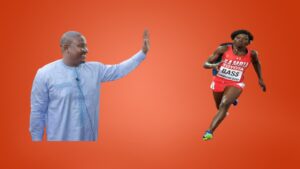 The elated mayor emphasises the need for more sustainable support to the youth, saying he always believes in the potential of Gambian youth.
The Doula international athletics showpiece brought together a total number of 16 African countries from Africa and beyond. The countries that participated include The Gambia, Nigeria, Togo, Burkina Faso, Kenya, Cameroon, Congo, Ethiopia, Djibouti and France.
Athletes also competed in high jump, long jump, lifting, triple jump and hurdles.