Veteran politician and secretary general of the People's Democratic Organisation for Independence and Socialism (PDOIS), Halifah Sallah, has said at a weekend presser that The Gambia needs local government reforms.
"You are empowered by the Local Government Act to elect the councillors, the mayors, the chairpersons. Under the act, councils should exist for four years. But it was included in that, local government elections should not be held except under circumstances where it will be one year after National Assembly elections and, consequently, the councils have not ordinarily stayed for four years," Mr Sallah contends.
"But the councils under the Local Government Act had the authority to stay up to a time when it is three months before an election, then they will stand dissolved and the president then had authority to appoint management committee to preside over councils until the first sitting of the next ordained council."
The veteran politician said further that the above conditions surrounding the councils has been abrogated by the Supreme Court, which now establishes that councils should be autonomous and democratically-elected.
He added: "But then what happens to the councils. When you separate mayoral elections, chairperson elections with the other elections, the councils will continue to exist. The law is yet to be fully clear as to its dissolution after the Supreme Court decision, and we are holding these two elections at different times."
He further noted: "It is the governors who should indicate the first meeting of the councils after elections and the chief executive officer for the municipalities and the city council. So essentially, after the council elections, the mayoral and chairperson elections will take place in May. And what do you do during that interim?"
The PDOIS leader said it is important to lead in a manner that has clarity because the meaning of rule of law is for the law to lead.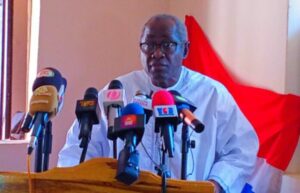 "But the law should be clear, and it should be vocal, it should be prescribed," he emphasised, saying: "So there is definitely a need for local government reform, and you should cast your mind at 2016. When the change occurred, the purpose of the change was to have a transition where within 3 years, we would engage the population, engage the administration, engage all elements of our society to be able to look at our laws, our institutions, our administrative and managerial practices to make them fit for a new republic.
"Now we are engaged in half-hearted measure that we call reform, and the courts are intervening to guide the process so that laws and constitution will be consonant and will speak the same language."