Lower River Region Chairman Landing B. Sanneh has said Gambians "are under a government that lacks vision and by someone who lacks vision".
The United Democratic Party's strongman advanced the criticism against Government following his nomination and of other members of his party the UDP across the country.
"I am vying for the second time because the need is there," he said. "I believe the people want me to continue and work for them. So that is the major and greatest motivation leading me into vying for a second term."
He added: "My observation is very clear. We just emerged from the councillorship elections, and we all know the results. That will translate in two weeks' time. The fact remains that the UDP still has its ground in LRR, which cannot change so easily. I think you are convinced that UDP is the bedrock of politics in this region, and there is no joke about that. You cannot underrate any other party, but that is democracy, and we in the UDP, in fact, promote democracy. That stands for United Democratic Party. Democracy will have to evolve and engage others, and that is the other parties that should play their part."
Reiterating that UDP candidates would win the upcoming elections on May 20, Sanneh said: "Development is lacking in the country because we are under a government that does not really have a vision, a central government led by someone who doesn't have a clear vision to develop and change the dynamics of this country as envisaged after we fought for true democracy and won in 2016. Unfortunately, there is still lack of development."
The main opposition UDP strongman did not waste any time to attribute the lack of development to President Adama Barrow and his National People's Party, saying: "Indeed, of course, we played our part, but remember local government is a representation of central government at the regional or at the local level. So it is the role of the executive or the central government to create where it is not there; to create the environment and the necessary atmosphere to work smoothly and easily with the local government. That is the responsibility of central government."
He added that the achievements his team and the people of Lower River Region have attained together are everywhere for everyone to see.
He further deliberated: "I just want to tell you one thing. At any point in time or at night you walk around town from Soma to the remotest villages, you will actually see the development we have brought. We have brought light to the people, which very key. We have brought water to the people and sanitation. That is also very key for survival, and we have brought basic services to the people of this region, even though we operate with very small and minimal revenue.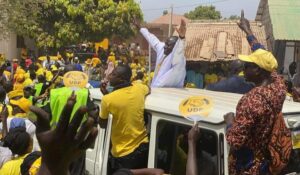 "My second term, my priorities are there for everybody to see as well. As I am ending my first term, we have a series of projects that are currently running. Number one is the state-of-the-art hospitality clinic centre in Mansakonko, which is going to house at any given time about 90 young people to be trained, and their fees, everything will be paid for by a project I initiated and led to get the required resources to be done in the rural areas.
"Apart from that, I have series of projects that are running in our cooperation with Morocco; that is supposed to provide good livelihood for women. Cooperatives for women and youths of this region are also being rolled out."
Mr Sanneh also stated that his greatest priorities are the women, young people and children.