Police and protestors clashed in Senegal's capital Dakar on Friday as unrest picked up again one day after a jail sentence for opposition politician Ousmane Sonko sparked some of the deadliest violence in the country in recent memory.
Nine people were killed in clashes between police and Sonko supporters on Thursday after he was sentenced to two years for corrupting youth. The opposition says the verdict, which could prevent Sonko from running in elections next year, was politically motivated.
Violence broke out again in Dakar's outskirts on Friday afternoon as police fired tear gas to disperse protestors burning tires on a main road. They threw rocks back before running away.
Similar scenes were reported in other parts of the city.
Soldiers and riot police patrolled streets on Friday as the army was deployed to reinforce security. There was a particularly heavy presence around banks and French-owned supermarkets and petrol stations, which Sonko supporters often target.
Thursday's riots were the latest bout in months of protests in Senegal, long considered one of West Africa's strongest democracies, sparked by Sonko's court case as well as concerns that President Macky Sall will try to bypass a two-term limit and run again in February elections.
Sall has neither confirmed nor denied this.
Several social media and messaging platforms were still restricted on Friday as the government sought to limit online communications.
But a call for more protests after afternoon prayers still circulated on social media, which many are accessing through virtual private networks.
Sonko's PASTEF party called on citizens to "amplify and intensify the resistance."
The United Nations, the African Union and West Africa's main regional bloc have condemned the unrest. France urged restraint and dialogue to resolve the crisis, saying it was extremely preoccupied by the violence.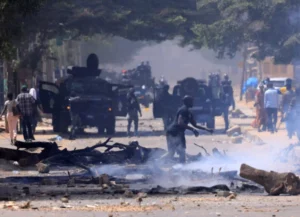 Amnesty International has meanwhile called on the government to investigate Thursday's deaths and avoid using force disproportionately.
'YOUNG PEOPLE ARE MOTIVATED'
Earlier on Friday, large groups of students were bussed out of Dakar's main university campus.
Cheikh Anta Diop University in Dakar was the epicentre of Thursday's violence, with protesters setting buses, buildings and archives alight and throwing rocks at riot police, who responded by firing tear gas.
"Yesterday was difficult and violent," said student Alioune Ndiaye, heading to his home in eastern Senegal with a backpack full of belongings.
Sonko, 48, was accused of raping a woman who worked in a massage parlour in 2021, when she was 20, and making death threats against her.
A criminal court cleared Sonko of rape, but found him guilty of an offence described in the penal code as immoral behaviour towards individuals younger than 21. He denies wrongdoing.
Many, especially the young, strongly support him. Cheikh Hann, a tailor queuing for bread in Ouakam, said the unrest would likely continue.
"Young people are motivated, they will not let this go," he said. "The government cannot eliminate opponents."
(Reuters)