Press Release Dated: 5th September, 2023
The Gambia Government has observed with serious concern the lack of adherence to the traffic regulations and the law governing building construction and permits for the erection of structures. This reckless disregard and willful violation of The Gambia Motor Traffic and Physical Planning Acts and Regulations, seriously obstructs vehicular activity and endangers the lives of motorists, pedestrians, and the public.
For the security, safety and unobstructed use of our highways and roadways, the Government hereby announces its Zero Tolerance Policy against any unauthorized and illegal structures erected within the 40-meters-corridor and other road corridors.
Effective immediately, all such structures identified within these specified corridors must be removed on or before 30th September, 2023 and failure to adhere to this despatch will result in the swift demolition of all these structures without further notice.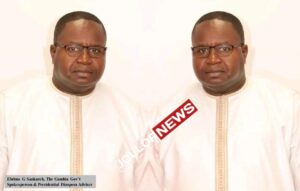 Accordingly, the public is urged to adhere to these regulations and desist from erecting or maintaining any structures without required approvals of the appropriate authorities.
This initiative aims to protect the welfare of all road users and the integrity of our national infrastructure. In this regard, The Gambia Government appeals for the public's sense of civic responsibility and cooperation to ensure that our highway and road networks remain hazard-free and functional at all times for everyone.
Signed:
Ebrima G. Sankareh
The Government Spokesperson & Presidential Diaspora Adviser