Gambia staged a remarkable comeback from a two-goal deficit, scoring twice in the final 10 minutes to secure a hard-fought 2-2 draw against Congo on Sunday in the final day of the 2023 Africa Cup of Nations qualifiers.
This dramatic result propels them into the 2023 Africa Cup of Nations, marking their second appearance in the tournament's history, following their debut in 2021.
Visitors Congo started the match with vigour and established a 2-0 lead by halftime, courtesy of goals from Gaius Makouta in the 30th minute and a successful 45th-minute penalty converted by Silvere M'Boussy.
However, the Gambian team showed great resilience in the second half, turning the tide of the match with goals from Yankuba Minteh in the 80th minute and Muhammed Badamosi in the 90+1st minute.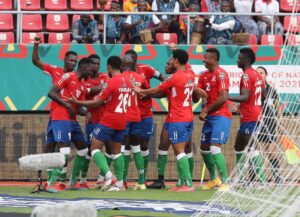 This result secures a precious point for Gambia, placing them second in Group G with 10 points. They follow behind the group leaders, Mali, who boast 15 points, while Congo remains in third place with 7 points. South Sudan finds themselves at the bottom of the group with a mere 3 points.
The match took place in Marrakech, despite the powerful earthquake that struck the city on Friday night and which has so far killed more than 2,000 people and injured hundreds more.
(Ahram Online Sports)