I am writing this testimony not as Deputy Government Spokesperson but as an ordinary citizen of The Gambia and family to Mr. Ebrima G. Sankareh.
It is quite unfortunate that one ugly side effect of being a Government Spokesperson is that constant bullying by fastidious and jealous elements with pretensions of perfection.
I have known Mr. Ebrima G. Sankareh since my junior school days and thanks to his self-less mentoring, I established my career in Journalism, Media and Communications, spanning 30 years now. His character is impeccable and I can say without fear or favour, affection or ill-will, that Mr. Sankareh is a straight-shooter, a man of profound integrity who detests lies and liars. This character trait makes him amiable and trustworthy by most who encounter him. These are the sterling qualities that bind him with Gambians and His Excellency, President Adama Barrow.
A Spokesperson as the face and mouthpiece of an entire Government is as good as the information provided by the various Ministries, Departments and Agencies at hand. After years of working with Mr. Sankareh in my various capacities as Senior Information Officer, Principal Information Officer and now Deputy Government Spokesperson, I can attest that on several occasions, we were supplied with information and data that were later found to be inadequate; however reform is an ongoing process.
To his credit, Mr. Sankareh has been very active in engaging the public across various media platforms at home and abroad. Through his new approach of proactive disclosure, he has been keeping citizens abreast of the policies and programmes of the Barrow Administration in line with his Terms of Reference.
Following the 2021 presidential elections, His Excellency, President Adama Barrow, having faith in the loyalty, patriotism, passion, consistency, honesty and modesty exuded by Mr. Ebrima G. Sankareh, detached him from the limitations of the Civil Service Code by renewing his mandate as Government Spokesperson with the expanded portfolio of Presidential Adviser on Diaspora Affairs.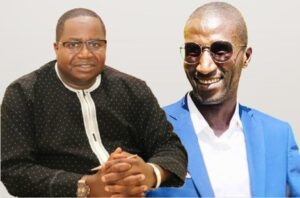 Despite his new appointment, my teacher and mentor, now boss, remains the same person who stood before me as a schoolteacher. His former students across ethnic groups, are family to him, his house remains our global classroom where he continues to guide us to remain steadfast, to be fair minded, to love The Gamba, to love everybody regardless of their ethnicity, to avoid the temptations of greed and corruption, to be honest and to always speak the truth no matter how difficult the circumstances.
This is the Mr Sankareh I know, the honest, charismatic and truth speaking man who laughs and makes you laugh even when you are boiling.
Above all, Mr Sankareh's love for people and kindness towards all, make him a remarkable human being that I am so very proud to be associated with.
Author: Prince Bubacarr Aminata Sankanu