Inspector General of Police Abdoulie Sanyang paid a visit to the Anti-Crime Unit in Banjulinding today to extend his condolences to friends and colleagues mourning the recent tragic terrorist attack on police officers.
During his visit, IGP Sanyang commended the dedication of police officers, especially those stationed on roads and in police stations, for ensuring the safety and peace of the public.
The General reaffirmed his unwavering commitment to the welfare of every police officer and assured that the sacrifice of our brave officers will not be in vain. He emphasized that all resources available to the Gambia Police Force are employed to bring those responsible for the attack to justice.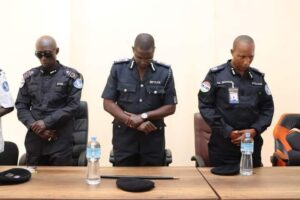 IGP Sanyang concluded by encouraging his personnel to maintain their dedication to serving The Gambia.