Dear editor,
I want to react to a press release by the Gambia For All party 'owned by' B.B. Darboe that I heard read by Peter Gomez at West Coast Radio last week. I know it is best not to keep making reference to the Sukuta Traffic Lights case as it is being investigated and is already in courts. But it is also important to throw an opinion on that press release and put some irrelevant politicians in their right places.
In that presser, B.B. went on a scathing attack on the person of Ebrima G. Sankareh about the interview he did on the murder case that has been trending in the country for some weeks now. It is my opinion that a party of only one person like the GFA should do itself a great favour by selling alternative programs and development blueprints to the public than pick on innocent civil servants just for mere stunts or cravings for cheap popularity.
All that Sankareh said on that program was cantered on some preliminary findings that were fed to him by the police about the murder case in Sukuta. We all know that in every criminal case, with suspect confessions and ongoing investigations, preliminary findings always change over time, as alluded to by the police missive to the public clarifying Sankareh's interview.
B.B. Darboe and his GFA, who evidently relied entirely on social media stories or actions of other sister parties, only came out to attack Sankareh to score political points. Why?
First, we all know that GFA party is no GDC, UDP, NRP or PDOIS. It is a party whose existence is known only to him.
Second, as a spent-force in Gambian politics, the octogenarian couldn't put up even one credible candidate in any election anywhere since it's founding, and still counting.
Third, by the current trend his party is growing or otherwise, not in a billion years will it win any elections under the sun, not even in a banana republic.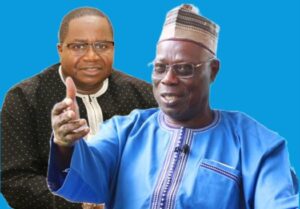 Fourth, some of us are privy to the relationship between B.B. Darboe and Sankareh during the struggle against ex-president Yahya Jammeh and how the duo worked on several projects in closed quarters. We also know how he relied on Sankareh for so many things that we cannot disclose out of respect for his age. We know how the duo crossed paths both in London and in the USA on several occasions and what Sankareh did for the aging and grossly unpopular politician.
So for B.B. to masquerade as a leader of a party that only exists in name and attack Sankareh just because other parties and individuals are doing so is at best disingenuous and has no place in our thriving democracy. If anything, the police never contradicted what Sankareh said. All they said was that what he said was all that they got at the material time. And as a government Spokesperson, it was within his TOR to tell the public what obtained at the given time. If B.B. cannot still find a retirement home after his not-so-attractive political journey, he better busy himself look for one than attack people just because someone else is doing so.
And finally, Mr B. B. Darboe, since when did you start doubting Mr Sankareh's competence; since he joined Adama Barrow? You see, there is an adage that those who live in glass houses should not throw stones and I advise you take heed.
Thanks
Writing by A Concerned Gambian