The United Democratic Party is saddened by the passing of Aja Nogoi Njie. Aja was the 2nd Vice President of the United Democratic Party women's wing. She served as an adviser and a close confidante to the party leader all through the years and was one of the most defiant through the trials and tribulations of the party and the Gambia leading to her arrest in 2016.
Today the UDP celebrates the life of an inspiring woman who is among the lights of women's participation in politics in The Gambia. She led and empowered women's groups and spoke for them when she was called upon.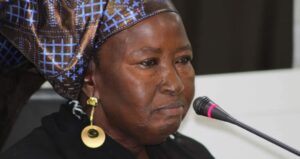 Nogoi Njie will be missed dearly, she will create a void in all of our hearts. We will keep your memories to remind us all the contributions you've done to the growth of the United Democratic Party.
May Allah grant you Jannah.