As many Gambians are still struggling to come to terms with the 'utter violence' that Gorgui Sow inflicted on his wife, former Victim Support Coordinator of the TRRC, Kaddyjatou Kuyateh, has added her voice to the chorus of recriminations.
"Justice has to prevail," she voiced out in an interview with JollofNews."The perpetrator need to be sentenced to death to set an example for non recurrence of such an act."
The Police broke out the news Thursday in a statement indicating that "the Anti-Crime Unit swiftly responded to a distress call in Jalanbang on Wednesday 15 November, leading to the arrest of a husband accused of assaulting his wife with a cutlass, inflicting severe injuries to her legs."
As sexual and gender based violence (SGBV) continues to make headlines in the media, Kaddyjatou Kuyateh called on the authorities to take such crimes (SGBV) seriously in order to save innocent lives.
A development worker by profession, Kuyateh deplored the fact that most of these crimes do happen in our homes.
"This is why I believe that SGBV is a household issue," she added.
Reports reaching JollofNews editorial desk have it that the spat between the couple has been going on for over a month.
A person familiar with the matter disclosed that there was a day the quarrel escalated to a point the wife was compelled to spend the night in another house.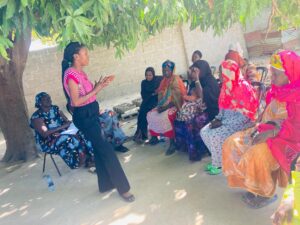 According to our interlocutor, the polygamous husband wanted the wife to quit the house. But she refused to comply with Gorgui Sow's demands, arguing that he has to refund her the money derived from the sale of her plot of land.
According to former truth commission Victim Support Coordinator the community could have reported this to either the wife's family or to the police.
"We need to break the culture of silence in our communities and form a shared vision," she remarked.