In wake of Supreme Court's decision to refer the case between Ousmane Sonko and the Republic of Senegal, the top brass of the leading opposition party has opted to throw their weight behind Bassirou Diomaye Faye.
In a message relayed by Jotna media group, Sadikh Top called on the militants to get ready to file the nomination papers for Bassirou Diomaye Faye who is still in jail.
Prior to the announcement, the head of the correctional administration put out a statement, making it very clear that Ousmane Sonko has not been authorized to deliver a message from his prison cell. He then threaten to clampdown on anyone linked with a possible pre-recorded message.
As a good number of YouTube channels were set to amplify the message, Sadikh Top took to the PASTEF social media platform to convey the message.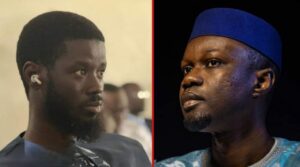 Top took the opportunity to remind their supporters that there is still a possibility to nominate Ousmane Sonko as presidential candidate by getting the endorsement of 13 National Assembly members.