The IOM office in Algeria has been accused of sidelining Gambian migrants in their repatriation program.
Reports reaching JollofNews have intimated that Gambians were among thousands of migrants from sub-Saharan Africa, who applied for voluntary return under IOM, last year.
Reports indicated that thousands of nationals of other countries have voluntarily returned home under IOM-assisted return program but Gambians were left stranded even after applying for voluntary return with the IOM.
"Well, I am a Gambian in Algeria. Algeria deported thousands of migrants under IOM voluntary return program but we are left here for three to four months and IOM said we should talk to our ambassador before they can repatriate us," one of the stranded Gambians told JollofNews.
Some of the Gambian migrants this medium managed to reach painted a dire humanitarian situation for the stranded Gambian migrants in the Magreb nation.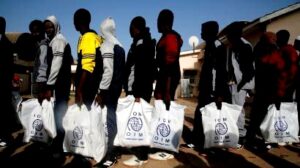 "We do not have access to proper shelter, sanitation and food. We are suffering here and need to go back home," explained one of the stuck Gambians.
Many of the stranded Gambian migrants accused the IOM of compounding their predicament in Algeria by "insisting" they (migrants) engage a Gambian diplomat before they could be finally returned home through IOM voluntary return program.
JollofNews has been making efforts to get IOM's side of the story.