It's one year one day today when Adama Barrow was declared winner of the 2021 Gambia's disputed general election.
Yes, today and last week offer that opportunity for stocktaking, reassessment and soul-searching.
Indeed, this is another significant juncture to evaluate and interrogate Mr. Barrow's one-year-old administration as it continues to be bashed and hauled over the coals for its failings in several fronts.
If we interrogate this administration as to how far we've moved under it in terms of progress in physical and human development, there'll surely not be much to write home about.
Mr. Barrow's second term in office has heralded even worse time for the country as institutions of state continue to be threatened by virtual collapse.
The education system, internal security, health infrastructure, agriculture, among other key sectors of the economy, are still convulsing under the Barrow government.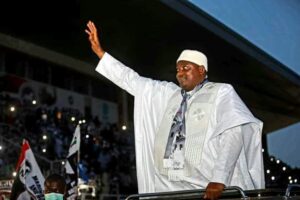 Seeming lack of foresight, vision and love of country and pervasive official corruption and inertia appear to be slowing down every aspect of our progress as people.
Six years on, the Barrow administration still scapegoats events and countries for the Gambia's woes.
This government has time and again convinced Gambians that it's not up to the task as far as the positive transformation of the country is concerned.
Shouldn't we pose here to ask: Is Barrow really the man for the job?