The Gambia's Vice President Alieu Badara Joof is currently bedridden, unconfirmed reports say.
Sources hinted JollofNews that VP Badara Joof has fallen sick and is now confined to bed.
The VP has not been reporting to work for quite a while now, sources said.
Though, the nature of his reported sickness and condition have yet to be established by this medium, rumours had it that VP Joof is currently "very sick".
JollofNews contacted the Spokeswoman of the Office of the Vice President Sarjo Camara Singhateh but she denied any knowledge of the VP's current health condition.
"I am away on leave and could not know what exactly is happening at the office,"Mrs. Camara Singhateh told this medium.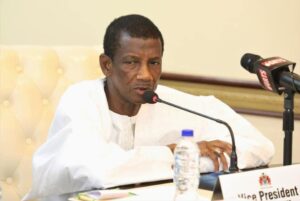 The Gambia government spokesperson also told this medium that he was unaware of the VP's reported sickness.
Meanwhile, rumours of the VP being in the throes of sickness have been spreading ferociously.