Myanmar junta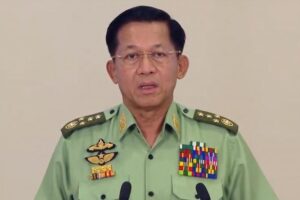 leader Min Aung Hlaing said Gambia's lawsuit against Myanmar at the International Court of Justice (ICJ) was aimed at harming the Tatmadaw, Myanmar's military.
He made the remark at a meeting of the junta's foreign policy committee in Nay Pyi Taw on 10 March, according to state media.
The Gambia filed a lawsuit against Myanmar over the alleged genocide of the Rohingya in Myanmar. In 2019, Gambia filed seven points including atrocities committed by Myanmar's military.
Min Aung Hlaing said that false allegations in the lawsuit were aimed at tarnishing Myanmar's image and harming the military.
He said the issue dates back to the colonial era and has escalated from immigration issues to litigation. He reportedly instructed members of the Military Council to take precautionary measures, regardless of the ICJ's decision.
A second hearing on the alleged genocide in Myanmar was held at the ICJ in the Hague, Netherlands from 21 to 28 February.
Source: Mizzima