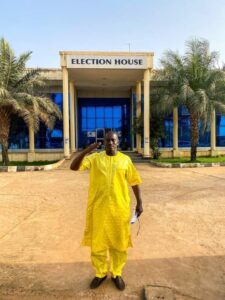 Busumbala aspirant Momodou Sabally, has suffered setback in his appeal against his disqualifications from next month's parliamentary election.
Mr Sabally of the United Democratic Party (UDP) was excluded from the race by electoral commission Thursday evening citing sec.90 (1) (e) of the constitution, which bars individuals from being elected who have been found wanting by a commission of inquiry.
In upholding its decision, IEC wrote: "The commission upheld the decision of the Returning Officer that your nomination has not complied with law as per the application of Section 90 (1)(e) of the 1997 Constitution of the Republic of The Gambia."
Sabally was one time secretary general and head of the Civil Service from 2013 to 2014 under former president Yahya Jammeh's rule. He was also appointed the director general of the Gambia Radio and Television Services (GRTS) and managing director and editor-in-chief of the defunct Daily Observer.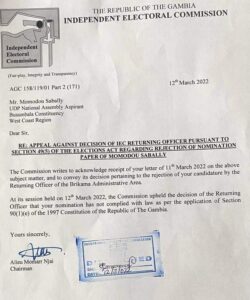 Janneh Commission, was a former commission of inquiry that was constituted to investigate the illegal financial transactions of former president Yahya Jammeh. The commission recommendation and the government's White Paper barred Sabally from holding public office.