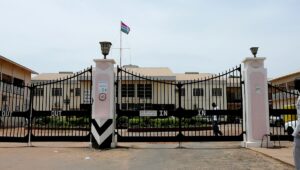 The dermatology unit of Gambia's main referral hospital is experiencing a surge in the number of patients but the hospital's pharmacy has few essential medicines for skin complications.
More than 40 patients visited the unit on Thursday but some were sent home till next week because the head dermatologist was overstretched.
This was a significant increase from the period before the rainy season.
Meanwhile, the nearly 40 patients who were given prescription papers were told that most of the medicines, if not all, were not available at the pharmacy.
Essential skin care medicines were in dire shortage on Thursday and patients or their parents/guardians were told to outsource the medicines.
"What is the essence of the National Insurance Scheme when the pharmacy of the country's main referral hospital could not have basic things like relief medicines," complained Modou Jagne who came to accompany his sister to the skin clinic.
"I was prescribed Maidscar-H but the sister (pharmacist) said it was not available," explained one frustrated patient.
The lack of essential skin medicines in the pharmacy of the country's main referral hospital, many say, could cause chronic skin problems in some patients, who cannot afford the costly skin medicines at private pharmacies.