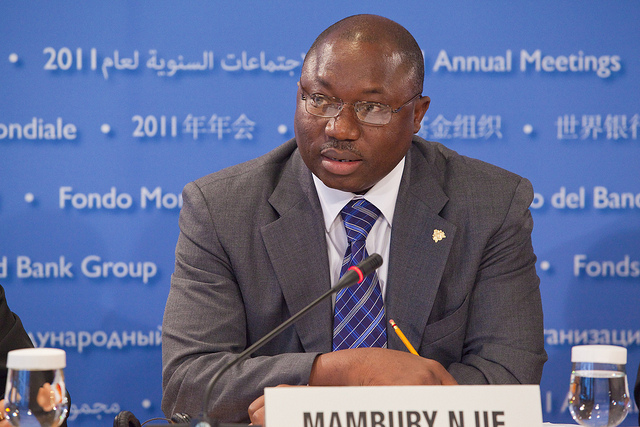 (JollofNews) – A former Gambian minister who has been in and out of trouble since he was fired by President Yahya Jammeh for opposing the execution of death row prisoners in the country in 2012
has been arrested again.
Mamburay Njie, 52, an economist and international affairs specialist with over two decades of experience in country economics, international appraisal and public sector administration and management was picked up on Friday by officers of the feared National Intelligence Agency (NIA) and is being detained incommunicado at the agency's headquarters in Banjul.
No reasons were given for his latest arrest.
Since his sacking by President Yahya Jammeh in August 2012, Mr Njie has been in an out of detention. In December 2012, he was charged with 'recklessly and intentionally' committing undisclosed acts between 2006 and 2010 that are detrimental to the economy of the Gambia. He later spent many weeks at the remand wing of the Mile Two Prisons in Banjul after he was unable to meet a D15m bail bond.
In February this year, he was rearrested and charged with economic crimes but was acquitted and discharged by the high court in Banjul.
Mamburay Njie joined President Yahya Jammeh's cabinet in July 2010 when he was made minister of Economic Planning and Industrial Development.
From February 2011, he was named minister of Finance and Economic Affairs, a position he held until in April this 2012 when he was appointed minister of Foreign Affairs, International Cooperation and Gambians Abroad.
In August that same year, he was appointed minister of Higher Education, Research Science and Technology, but was sacked one week later.