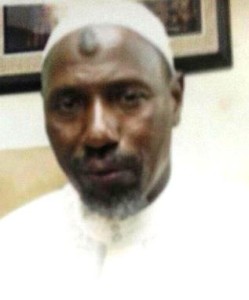 (JollofNews)- Authorities in the Gambia are yet to file criminal charges against a Muslim cleric who is languishing in an unknown state detention centre since his arrest more than three months ago.
Ousman Sawaneh, imam of Kanifing South mosque in the Kanifing Municipal Council (KMC), was arrested on 17th October 2015 by men in plain-clothes whilst on a cleansing exercise at the Kanifing South Cemetery. He has not been seen in public since.
No reasons were given for his arrest and the Gambian regime has declined to reveal his whereabouts or allow him access to his family.
The continuous detention of the cleric is a breach of his human and a violation of section 19 (3b) of the 1997 Constitution, which states that "Any person who is arrested or detained… who is not released, shall be brought without undue delay before a court and, in any event, within seventy-two hours".
Although the Gambia is a Muslim dominated country where imams and religious scholars are revered, they have in recent years being targeted for harassment and detention by the government of Yahya Jammeh.
Last month, another cleric from Darsilami mosque in the Lower Fulladu West District, Central River Region, Imam Cherno Gassama was arrested by officers of the feared National Intelligence Agency (NIA) and detained incommunicado at Jangjangbureh prisons.
In 2004, the imam of Banjul International Airport, Alhayba Hydara, was arrested and detained incommunicado at Jangjangbureh prisons for criticising the government's handling of hajj operations.
In December 2012, Imam Baba Leigh, a prominent Muslim cleric and activist, was arrested and detained incommunicado for five months after he publicly condemned the execution of nine inmates at Mile II central prison in August 2012.
Last year, the Caliph General of Darsilameh Sangajor, Muhideen Hydara, was arrested and detained for many days for observing Eid prayers on a different day.