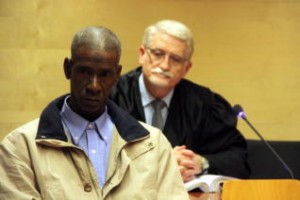 (JollofNews) – A Gambian man who chanted 'mission accomplish' after he violently stabbed his wife to death with a kitchen knife is facing a lengthy time in a Spanish jail after he was found guilty of murder.
Musa Baldeh, a native of Kantora village, Upper River Region, repeatedly plunged a kitchen knife into his wife, Aji Jawo-Baldeh, in their flat in Sant Pere Pescador, Girona after an argument in the presence of their 18 months-old daughter on 17th November 2014.
Mrs Baldeh suffered various injuries including a stab wound on the neck.
During the trial, the court heard that after stabbing his wife, Mr Baldeh who has three other wives in the Gambia, took his young daughter to his Moroccan neighbours who sometimes babysit for him and slammed her on the floor of their front room before storming out in a fit of rage.
The court heard that he later returned to his flat where the mother of his three children was lying in a pool of her own blood and packed his suitcase in an attempt to flee back to Gambia. However, he had a change of heart and rang the 112 emergency number.
The wife was later confirmed dead in hospital and Mr Baldeh was arrested and charged with her murder.
The court also heard that the couple were in a volatile relationship and a few days before the incident Mr Baldeh had told a friend on the staircase of his flat that he looked like someone with 'one foot in prison and one foot on the street'.
Prosecutor told the court that Mr Baldeh had chanted 'mission accomplish' when he was informed by police that his wife has died.
Mr Baldeh admitted manslaughter on the ground that he only stabbed his wife out of anger and in self-defence and he never intended to kill her. However this was rejected by the jury.
The case is adjourned for sentencing and the prosecution has asked the court to impose a maximum jail term.