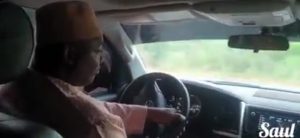 (JollofNews) – President Adama Barrow of the Gambia has admitted receiving a new Toyota SUV worth several thousand pounds from a Senegalese business tycoon.
Mr Barrow who is currently seeking a second term was gifted the 4×4 Toyota by Kalilou Waggeh.
The president has in recent weeks seen cruising around the streets of Banjul and Bakau in the Toyota and interacting with the locals. In one of the videos posted on Facebook, Barrow can be seen driving the vehicle and having lighted conversation with his security details.
He could be heard confiding to them that  the vehicle was gifted to him by Businessman Kalilu Waggeh.
Pointing at the vehicle's dashboard, Mr Barrow stated that Kalilu told him he bought the SUV brand new not a used car. "Oh, I thought it was a used vehicle," replied his bodyguard. "No, it's brand new," Mr Barrow said.
News of the gift is likely to ignite debate in the Gambia about Mr Barrow's relationship and dealings with Senegalese business tycoons. The president's critics have  in the past accused him of receiving undeclared gifts from unnamed businessmen in Senegal and other parts of the world in exchange for political and economic favours.
This is not the first time president Barrow is receiving gifts from Senegalese businessmen.
In 2017, Senegalese estate developer and CEO of Getran, Mar Thiam, donated two properties worth 240 million CFA to him, while he was on a state visit in Senegal.
Mr Barrow was elected with the promise of fighting corruption in the Gambia. However, there has several reports of corruption in his government. The government has failed to implement a campaign promise requiring senior government officials including the president to declare the wealth before assuming power.