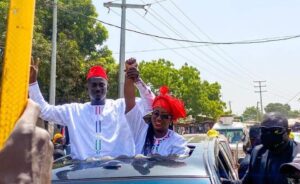 Gambia's election commission said on Thursday that Momodou Sabally, a major candidate in April's planned parliamentary election, was ineligible to run for office.
IEC Regional Office Chair, Anthony Roberts Secka, cited section 90 (1) E of the Constitution to reject Momodou Sabally's candidacy.
Mr Sabally was one of the several candidates the commission disqualified in an initial decision pending an appeals process that will ultimately be decided by the judiciary.
According to section 90 (1) of the constitution, no person shall be qualified for election as a member of the National Assembly if he or she: "has been found by the report of a commission or committee of inquiry (the proceedings of which have been held and published in accordance with the relevant law) to be incompetent to hold public office by reason of having acquired assets unlawfully or defrauded the State or misused or abused his or her office, or wilfully acted in a manner prejudicial to the interests of the State, and the findings have not been set aside on appeal or judicial review".
Reacting to the IEC's rejection, Momodou Sabally said he doesn't think the IEC has the authority to reject his bid to contest the upcoming elections.
"I think you are abusing your office and that's completely unacceptable in a democratic transition. You are being used as a tool to oppress an innocent Gambian who has not been found wanting by any court of law."