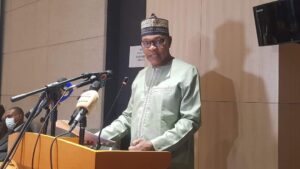 Candidates for a parliamentary seat in the upcoming legislative elections have been urged to commit to a peaceful election. Efforts to ensure a peaceful elections have been scaled up by gov't and its partners as the electoral campaign is intensifying.
"Candidates of the National Assembly elections by signing this Code of Conduct have committed to conduct themselves in a manner to ensure credible, peaceful, and participative elections," Dr. Mohamed Ibn Chambas said in a statement delivered at the symbolic signing ceremony of the much awaited Code of Conduct for the National Assembly elections, which is being held from 29th to 30th April, 2022, at the Sir Dada Kairaba Jawara International Conference, Kololi.
Dr. Chambas is part of the eminent persons who were instrumental in the formulation of the code of conduct for National Assembly candidates.
He seized the opportunity to remind the gathering of commitment of the aspirants to "holding themselves accountable, to ensure issues-based campaigns devoid of hate speech, inflammatory language or actions that incite tribal, religious or any other sectarian sentiments likely to lead to violence, division or disruption of the cherished peace that Gambians are enjoying."
The increased polarisation of the political spectrum has raised concerns in many quarters as elections have become a cause of instability on the continent.
"Above all, the Code of Conduct encourages signatories to accept the outcome of the elections as would be announced by the Returning Officers of the independent Electoral Commission (IEC), and to seek redress to any grievances arising through constitutional and legal means by due process of law," he emphasized.
For his part, the Chairman of the country's electoral body, Alieu Momar Njai, expressed the IEC readiness to "conduct elections without fear or favour."
Each candidate, he went on, has the responsibility to contribute to peaceful elections.
Over 200 candidates are vying for a seat in Parliament. A good number of them are running under an independent ticket. The Gambia government teamed up with the International Institute for Democracy and Electoral Assistance (Int. IDEA), the British government and partners, to come up with a Code of Conduct.
The Chairperson of the National Elections Response Group (NERG), Dr. David Tommy, reiterated the need for candidates to stick to the Code of Conduct.
"We all come together to preserve the peace of The Gambia," he stated.