Muslims in The Gambia and outside as well as Islamic organisations have responded swiftly to a distress call for humanitarian assistance for a Muslim convert.
Anna Mendy converted to Islam years ago but this came at an expensive cost as she was persecuted and shunned.
She's currently battling illness and was living a desolate life with her Muslim children since the death of her Senegalese husband.
But immediately her story was published by JollofNews, Muslims in the country and beyond as well as organisations intervened rapidly to provide her and children shoulders upon which they can cry on. Read more: https://jollofnews.gm/woman-in-distress-4yrs-after-renouncing-christianity/
So far, D519,410 have been raised.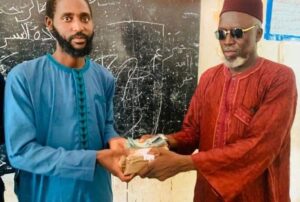 One Abubacarr Drammeh has raised D293,500 through individuals.
The Supreme Islamic Council (SIC) also raised D15,510 through its WhatsApp group.
Meanwhile, Karantaa-baa Organisation for Dawah & Charitable Works contributed D133,400 whilst Islamic Enlightenment Society (Iskaatul) gave D50,000.
Daru Salam also made a significant contribution in the form of food items.
JollofNews is currently working on the list of individuals who have contributed to this initiative, though we still find it tough to convince many to give us their names.
We hope they will understand our intention here is not for publicity but to encourage others to emulate such a noble gesture.