Tottenham Hotspur's interest in Adama Bojang has seemingly been confirmed with the Gambia's Football Federation vice-president Bakary Jammeh telling Sada El-Balad that the wonderkid has Premier League admirers.
With four goals on route to the final of the U20 African Cup of Nations – including a quarter-final hat-trick over South Sudan – one of the most exciting young talents on the continent could be about to earn his big break.
Tottenham, the Daily Mail say, have made an enquiry about the 'Gambian Hurricane'. As have Nottingham Forest, Marseille and perennial talent-spotters Ajax.
GFF chief Bakary Jammeh, meanwhile, believes that Bojang will be offered the opportunity to stay in Africa with Egyptian giants Al Ahly another potential destination.
Tottenham and Nottingham Forest like Gambia wonderkid Adama Bojang
"In addition to Tottenham, I have also heard about Al Ahly's interest in Adama Bojang. But there is nothing official yet," Jammeh explains, via King Fut.
The 18-year-old centre-forward currently plies his trade with Steve Biko FC; a local Gambian outfit located near the capital of Banjul.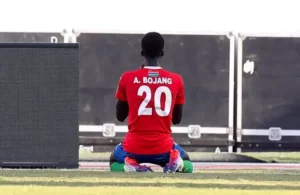 "If they want to sign him, they will have to start negotiations with Steve Biko," Jammeh adds. "I really hope that Bojang moves to the highest level possible, and succeeds in his next step."
Reporter Ahmed Schubert believes that negotiations between Spurs and Bojang are now underway. But the teen sensation is not averse to the idea of joining the most successful club in Egpyt; a team with a remarkable 42 league titles under their belt.
"Bojang made televised statements in which he very much welcomed the idea of playing in Al-Ahly," Schubert adds. "He stressed that he would be happy to have negotiations with the club."
The player himself, meanwhile, has already admitted that he plans to move clubs this summer.
"I want this to be my last season," Bojang tells TAT Sports.
"We always intend to move the team forward and contend for the league title this year as we want to be champions. We'll take it game by game. We will fight for it again this season, and I'm eyeing the Golden Boot."
(HITC)