Adama Bojang has been blowing away opponents so easily of late that he's earned himself a new nickname: "The Gambian Hurricane".
A star at the recent Under-20 Africa Cup of Nations (Afcon) in Egypt, the 18-year-old scored four goals to help the Scorpions reach the final where they were defeated 2-0 by Senegal.
His tally included a hat-trick in a 5-0 demolition of South Sudan in the quarter-finals and the winner against Nigeria in the last four.
Those performances have the rumour mill churning out links to some of Europe's top clubs including Premier League duo Tottenham Hotspur and Nottingham Forest, as well as Marseille, currently riding high in France's Ligue 1, and Dutch giants Ajax.
But Bojang insists he remains grounded despite the reported interest.
"I've heard about the news and I am excited about it," he told BBC Sport Africa.
"It boosts my morale. I'm focusing more on consistency which motivates me a lot, because seeing such clubs following you is a great feeling.
"Through consistency it will make them hungrier for me."
Coached by grandad
Bojang says football is "the only game I've ever known" – but his family hesitated in assisting his goal of becoming a professional.
"Sometimes my mum would talk to my school team to stop me playing and focus on my education."
Despite her initial reservations, the striker's mother is now fully on-board with her son's career.
"Later, she started coming to games because she sees this is what I love. She keeps supporting me and together we are making this happen," he said.
"You have to follow your dreams and do what you love doing."
And the family support network does not end there because the Bojangs had more than one representative at the U20 Afcon – coach Abdoulie Bojang, Adama's grandfather.
"I've been with him since I was a child," revealed the junior Bojang, discussing the importance of the relationship.
"It's all because of him, he has played a big role for me."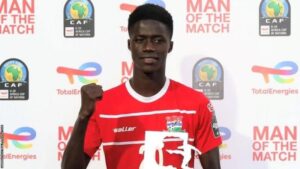 Real dreams and YouTube training
Currently playing in the Gambian top division with Steve Biko FC, Bojang would love to swap Bakau for the Bernabeu to join "dream club" Real Madrid and follow in the footsteps of his hero.
"I want to be like Cristiano Ronaldo," he revealed.
"Because he's my favourite when it comes to the big name players.
"I've been watching his videos on YouTube after games. He posts his workout there so sometimes I try to watch those and motivate myself through that."
With European top-flight teams keeping tabs, the Gambian Hurricane might soon find himself creating a social media storm of his own.
Writen by Andre Lombard, BBC Sport Africa