Erstwhile secretary to Cabinet Ebrima Ceesay has been accused of snatching the wife of a foreign-based Gambian man, JollofNews was informed.
Sources said when Mr. Ceesay and Kaddy Fofana saw each other at an event in Farefenni sometimes ago, their body chemistries connected.
Ms. Fofana was reportedly in a conjugal bond with a US-based Gambian man.
According to our informants, when President Barrow became aware that Kaddy Fofana was someone else's wife, he was deflated.
"Everything was exposed on the wedding day. When the President learned that Kaddy Fofana was married to someone else, he was disappointed. However, the Supreme Islamic Council (SIC) intervened when the President wanted to act,"one of the sources stated.
Meanwhile, Mr. Ceesay has now found a new direction as the Gambia's ambassador to Russia.
Sources said the deployment of the former Cabinet secretary to a far-flung duty station was an expression of President Barrow's waning trust and confidence in Ceesay but some people, who spoke to JollofNews, were not convinced.
"Ambassador is an exalted status usually hinged on trust and confidence," a politician, who preferred anonymity, told this medium.
When contacted for his side of the story, ambassador Ceesay dismissed the accusations against him as baseless.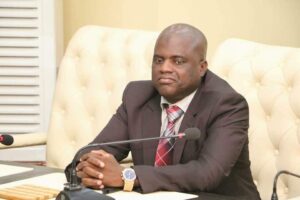 He told JollofNews that Kaddy Fofana was already divorced before their marriage.
To ambassador Ceesay, there's nothing wrong with Kaddy's decision to look for love elsewhere.
"She was divorced months ago. Didn't she have the right to marry again? I married her when she was already divorced for months," ambassador Ceesay told JollofNews.