A Gambian man was among three men jailed in the UK for their roles in a transnational organized crime group, JollofNews has gathered.
Baboucarr Nyang, 49, was found guilty of conspiring with a Jamaican Rowe and a British citizen Winston Andrew to smuggle suitcases of cocaine from St Lucia in the Caribbean to the UK.
According to sources, investigation by the National Crime Agency (NCA) has established that Nyang alongside a British citizen Andrew and a Jamaican Devon Rowe conspired among themselves to smuggle 2.9kg of cocaine through Manchester Airport in Andrew's suitcases.
In October of 2018, Andrew was reportedly intercepted by Border Force officers with the Class A drug concealed in the hollow struts of his three suitcases.
Meanwhile, Nyang was said to be waiting for Andrew as he attempted to pass through whilst Devon Rowe stood outside the airport.
Rowe was the ringleader and Andrew had reportedly travelled to the Caribbean a month earlier from Gatwick.
According to reports, despite Andrew and Nyang insisting they were strangers to each other, CCTV footage showed the two together at Gatwick Airport on the day of Andrew's flight to St Lucia.
He also phoned Andrew five times on the morning he landed in Manchester, investigation revealed.
It was also revealed that "at least nine other importations or attempted importations on flights from St Lucia to Manchester-eight on dates coinciding with Rowe, or both Rowe and Nyang, travelling to the airport".
Evidence of contact among Rowe, Nyang and a number of Caribbean numbers have also been established, this medium gathered.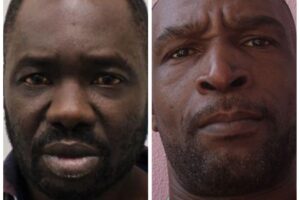 The men were meantime implicated in smuggling approximately 32kg of cocaine with a street value of 1.2 Pounds based on the same purity as the cocaine discovered in Andrew's suitcases.
Details of cash transfers to the Caribbean through Western Union and images of huge amounts of cash were also said to have been found in Rowe and Nyang's phones.
Audio messages, regarding arrangements for cash transfers to St Lucia were also reportedly found on the phone.
Nyang and Rowe were later linked to a Manchester-bound 5.7kg of cocaine seized in St Lucia in December of 2018 with the drug hidden in the hollow struts of their suitcases.
Nyang, Rowe and Andrew were last Thursday jailed by a jury at Manchester Crown Court following their convictions last month of conspiracy to import cocaine between June 2018 and January 2019.
Nyang was jailed for 13 years, Rowe for 16 and Andrew for seven
"We know that this OCG had smuggled a significant amount of cocaine from St Lucia to the UK. Our investigation has taken three key players out of the crime group's hierarchy and jeopardized their route," National Crime Agency's operations manager Charles Lee was quoted as saying.