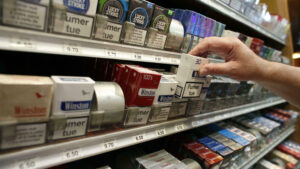 Three men, claiming to be officers of the Gambia Police Force (GPF), have been reportedly going round shops in Old Jeshwang lately, taking cigarette packs off shop shelves and making away with them.
Though, single stick selling is against the Tobacco Control Act, owners of the affected shops have accused the three men, who identified themselves as police officers of extortion.
"They just came in, put together all my cigarettes and walked away," said a terrified Guinean shopkeeper.
"I suspect that these men were acting on their own," another surprised shopkeeper told this medium.
"If at all this is a sanctioned operation, why aren't we booked for any crime?," queried another shop owner who do not want to be named.
The several affected shop owners were counting their loss but also grateful for having escaped the long arm of the law.