As the tiny West African nation joined the International community to celebrate World Fisheries Day, the Platform of Non-State Actors of the Fisheries and Aquaculture of The Gambia ( PONSAFAG) Secretary General, Dawda Foday Saine, has called for 'better management' in fisheries.
"The sector needs better governance, designed to ensure a healthy ecosystem while enhancing fishers well-being," he said in a statement obtained by JollofNews and shared on the social messaging platform WhatsApp.
In his recent State of the Nation Address (SoNA), President Adama Barrow underlined the importance of fisheries sector, contributing about 12% to the country's GDP. He also said the sector provides direct employment to over 30,000 people. However, many environmentalists are decrying the endemic corruption that continues to plague a sector that has the potential to address food security challenges.
Re-echoing the role of fisheries sector in Gambia's development process, Saine made it clear that artisanal fishers and their families have to contribute their quota.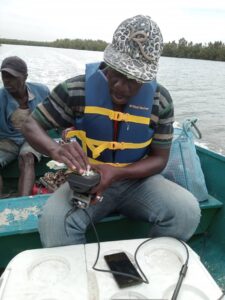 "Several efforts have been made in the last decades by intergovernmental organizations like the FAO, fishers associations, funding agencies, scientific community to support and protect the interest of Artisanal Fisheries," he remarked.
Millions of people across the globe depend on fisheries for their living. Over these past years, the fisheries sector has been hit by some scandals. To many observers, a better way of governance is expected to have the potential to shape fishing livelihoods.
POSANFAG Secretary General further stated that more needed be done with a view to understanding what he described as an "important sector."
"I call upon Fisheries Administration, FAO, Fisher association to fully take part in the coming years to celebrate this important event in grand style," he said.
Food Insecurity Caused By Fishmeal Industry
It could be remembered that Greenpeace and Changing Markets released in June 2021 a damning report, linking up major European companies to food insecurity in West Africa.
"Depriving millions of West African people of the most basic source of protein to feed animals or produce dietary supplements, cosmetics and pet food products is shameful and a blatant disregard of local and international laws," said Dr Ibrahimé Cissé, Senior Campaigner at Greenpeace Africa in the said report.
In what many have described as indictment against the fishmeal industry, Dr. Cissé then added: 'Fish fit for human consumption should not and must never again be stolen from communities in West Africa to service the needs of other countries. Our governments must act fast to put an end to this."