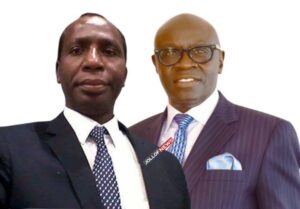 Some influential members of the Brufut community are now battle-ready to drag Mustapha Njie to court over his acquisition of vast chunk of land in the community that he later developed into multi-million Dalasi luxury housing units.
Mustapha Njie or Taf as he's better known could be forced to explain to the courts how he acquired the land of Brufut Manneh Kunda Suba in the early 2000s in controversial circumstances.
JollofNews was reliably informed that key figures in Brufut have been knocking heads together to see how they can ensure a judicial review of Taf's acquisitions.
Sometime before the arrival of the new millennium, the Gambia government approached Brufut for land.
The indigenous people were told the lands would be used for state purposes.
However, it turned out that a vast area of the acquired land was later given to private real estate developer Mustapha Njie to develop it into multi-million Dalasi housing units.
"We are mounting a legal challenge. We want a judicial review (of the acquisitions)," UK-based influential Brufut native Abdou Karim Sanneh told JollofNews on Monday when contacted on the Taf-Brufut land friction back in the 2000s.
Mr. Sanneh was one of the most vociferous critics of the Taf acquisitions from the outset and he's still adamant alongside other compatriots in bringing closure to the case.
"It doesn't matter whether we lose the case or not, we just want our people to know," Sanneh also a housing expert told this medium.
He added: "We want everything to be clear. Why was our people forcefully compensated? We really want to know what actually transpired."
Some members of the Brufut community also wanted to know how the land acquired under the guise of 'State use' finally ended up in Taf's hands.