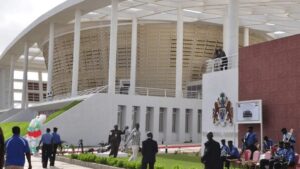 There has been a low voter turnout as Gambians head out to cast their ballot in national assembly elections on Saturday, the first since a historic presidential vote saw incumbent Adama Barrow returned to power last December.
962, 157 Gambians have been registered to vote for their next parliamentarians distributed in 53 constituencies spread across the country.
Voting began slowly in some polling stations in the urban centres of The Gambia with polling scheduled to begin at 8am.
Gambians have a unique way of voting, casting crystal-clear marbles into drums adorned with the faces and party colors of their favourite candidates.
Unlike in the presidential election of December 4th 2021, voter turnout in some polling stations for the national assembly polls has been as low as four voters in big towns such as Brufut and Jeshwang, 8km outside the capital Banjul.
There were fewer than four prospective voters queuing to cast their ballot at a polling station in the township of Tallinding where voting did not begin until 9am.
One political commentator told the African Press Agency it would be even overoptimistic to expect the overall turnout to reach 40 percent of the current voter population.
Some other observers put this voter apathy down to a "Ramadan hangover" a reference to the physically-tasking Muslim holy month of fasting which began a week previously.
Other say Gambian interest in politics has witnessed something of an anti-climax since the presidential elections which some had predicted would be too close to call.
19 women are among the 245 candidates running for 48 of 53 seats in the Gambian national assembly.
The remaining five seats would have members nominated by the president in accordance with provisions of the 1996 constitution.
The main parties fielding candidates are Barrow's ruling National People's Party, and the opposition United Democratic Party, the People's Democratic Organisation for Independence and Socialism, the Alliance for Patriotic Reorientation and Construction among others.
After three weeks of campaigning, the ruling NPP are in the hunt for most seats in parliament with the UDP and other fringe parties hoping to punch above their political weight.