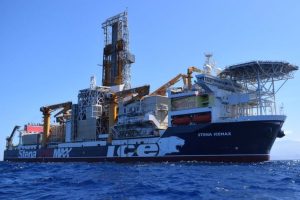 The drillship Stena IceMAX is due to arrive in Las Palmas in the Canary Islands later this month before mobilizing to drill the Bambo-1 exploration well offshore The Gambia.
Operator FAR says the targeted spud date is Nov. 13. Exceed's wells management team in Aberdeen is supporting planning and execution of the well, with Schlumberger providing various services, and the shore base for the project, in Dakar, Senegal, is ready to support the drilling activities.
The well is designed to drill vertically stacked targets with combined prospective resources of 1,118 MMbbl.
Bambo is a shallower reservoir not tested during drilling to the north offshore Senegal. Soloo is an extension of the hydrocarbon-bearing reservoirs in the adjacent Sangomar oil field, while Soloo Deep is in two additional horizons, also not penetrated during the Senegal campaigns.
Although Soloo Deep has a lower chance of success, the volumes are potentially higher, FAR added.
The company also continues to assess other prospects in offshore blocks A2 and A5 (Jobo, Jatto and Malo) and to consider opportunities for additional acreage in the event of a success.
Offshore Guinea-Bissau, the Sinapa (block 2) and Esperança (blocks 4A and 5A) license terms have been extended for three years through Oct. 1, 2023. The partners must drill an exploration well during this period.
FAR is working with operator PetroNor to finalize the 2022 work program and budget by the middle of December. It also remains open to farming down its interest prior to drilling.
The partners are reviewing a potential well location for their planned campaign in 2023 with Atum (potentially 471 MMbbl) the chief target.
In addition, PetroNor is reviewing the commerciality of the shallow-water Sinapa oil discovery (13.4 MMbbl) and the estimated 72 MMbbl of prospective resources in the West and East Sinapa prospects which could be co-developed with Sinapa.
Source: offshore-mag.com