Some commercial vehicle drivers in the Kanifing Municipality and West Coast Region have been defying the newly-introduced route licensing scheme few hours into the enforcement of the new official tariffs.
The new route licensing scheme has been devised to eliminate the imposition of double or triple fares for an official route.
However, some drivers have started exhibiting their unwillingness to effect a break with the past.
"Many drivers are still refusing to conform to the new scheme and are still charging commuters double or triple fares,"businesswoman Sohna Faal told JollofNews.
"I paid three fares from Brikama to Westfield and I heard on the radio the other day that such is now in the past," she wondered.
"Who will police the drivers," asked exasperated commuter Momodou Kanuteh as he tried to get his head around the naked disregard of the new official tariffs and route licensing scheme.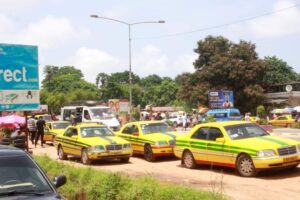 However according to the President of the Gambia Transport Union, Omar Ceesay, the onus of enforcing the new initiatives hinges partly on the public and hugely on the law enforcement.
"The commuter community could play a watchdog role here and report any violator to the police. Enforcement of the new tariffs and scheme is the role of the police and I know they know their stuff," GTU President told Assan Ceesay of King FM Felerango morning show today.