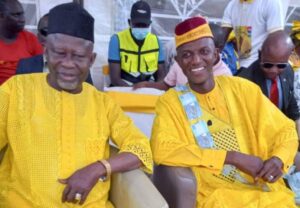 Lawyer Ousainou Darboe has told a rally in Tallinding that the weight that his party attaches to the area's National Assembly seat could be only equated to that of President.
"To us, Tallinding National Assembly seat is equal to that of a President. UDP wrestled the Tallinding seat from the APRC but they derailed it, " Darboe said at the rally organized to celebrate UDP's victory in the area in April's legislative polls.
According to the UDP secretary general, the reclamation of the seat by the constituents through hard work and determination has shown the world that Tallinding is indeed a stronghold of the UDP.
He, therefore, congratulated the constituents and their elected NAM – Amadou Badjie.
"I want to emphasise that you've achieved the unexpected.
"Your sterling performance has vindicated me because I've said earlier that we were on the path of regaining all our seats that have fallen on the wayside," he explained.
Mr. Darboe encouraged the newly-elected Tallinding NAM to use the House to build upon the gains he'd registered as councillor.
Darboe pointed out that though the new Tallinding NAM campaigned on a UDP platform, he should endeavour harder to be a legislator for all.
"No more obsession with the yellow box. That notwithstanding, you should continue to advocate our Five-Point Agenda in the National Assembly.
"The Vice President has just reiterated in his speech yesterday all that are encapsulated in the Five-Point Agenda," stated the UDP leader.