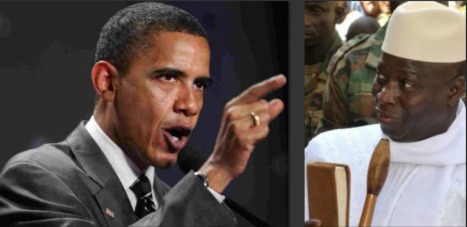 (JollofNews) – The United States is hosting the so-called US-Africa Leaders Summit' this week. This rare get-together is significant in many ways.
Historically, it`s the first in terms of magnitude, and, more importantly, it is being hosted by the first US President of African ancestry.
So much had been expected of President Barack Obama when he assumed office over five years ago. To say that Africans are disappointed in him is an understatement. This feeling has nothing to do with what he`s done for his constituents.
Expectations had varied. While some greedy African politicians were expecting he would shower them with the hard-earned US taxpayers` money to squander for personal gains, for majority of the African populace it had been about his severally expressed desire to bring democracy to the continent of his father.
The US President may have used every opportunity that presented itself to trumpet this desire, but he clearly has failed and that`s largely because his actions have not matched his words.
This upcoming Washington Summit is a typical example of how the US is getting things wrong. By inviting greedy politicians and leaving civil society activists out in the cold, the US has inadvertently endorsed the hostile views of these mainly tyrants towards civil liberty.
In the first place, some of these 'African leaders' do not even deserve to share a table with the leader of the free world. But from every indication, the Americans are aware of the implications of their actions and every bit of their moves in preparation for the summit suggests this.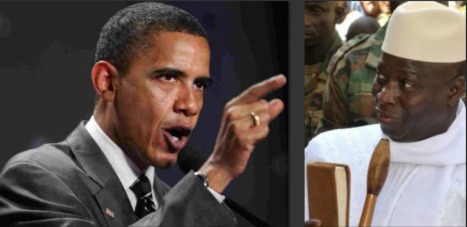 For instance, the Obama administration ruled out individual meetings with any of the 50 African heads of state.
"Choosing just a few of the visitors to hold one-to-one talks with Mr Obama would be a very difficult decision," Assistant Secretary of State for African Affairs, Linda Thomas-Greenfield, was quoted saying recently.
Accordingly, the leaders of four nations were left off the guest list – Sudan, Zimbabwe, Eritrea and Central African Republic. We can understand with the case of the elusive Eritrean dictator; but not Robert Mugabe.  Also, how is Sudanese President Omar al-Bashir different from, say, President Yahya Jammeh? And the CAR President, what is her own crime?
Some reports said Egypt's military strongman, who clearly usurped power from a democratically elected President, Abdel Fattah al-Sisi, may not be travelling to the US, but he was invited anyway. Why not Mugabe?
The leaders of Equatorial Guinea, Cameroon, Angola and even that man in Rwanda who thinks he owns that small eastern African nation, Paul Kagame, what business do these people have in a place where the talk is about democracy?
As far as we know, the opposition in Zimbabwe is far more free, compared to those in Gambia or Rwanda, or Teodoro Obiang Nguema Mbasogo`s Equatorial Guinea. So, what criteria is the US using here to invite these people while shunning others?
Clearly, the Americans are up to something. But we, Africans, are concerned that getting closer to 'leaders' with no respect for their people will embolden them to continue on their path of cruelty rather than change them for the good.
We therefore would want to see the US do something about this, not dinning with people like Yahya Jammeh, who has made no secret of his hate for America, even though it is play ground for his kids and countless concubines.
Please, let someone pass this message to the White House!