A prominent Gambian expert in politics and African studies and political science lecturer at the University of The Gambia has been appointed to serve as part-time professor at the College of Foreign Languages and International Education at the Zhejiang Normal University in China.
Dr Ismaila Ceesay's appointment takes effect from June 2023 to May 2028.
As one of the top universities in China, Zhejiang Normal University employs over 2,000 associate and full-time professors.
The College of Foreign Languages is one of the 19 colleges at the provincial Chinese university, which offers up to 61 study programmes to students both in China and from across the world. It has a student population of 30,000, which include over 3,000 international students.
Located in Jinhua, southern part of Shanghai in China, the university has over the years been making efforts to open up to the wider world.
In its efforts to reach out, it has over the years built contacts with several universities across regions of the world.
In 1996, it established a Center for Chinese Language and Culture in Cameroon.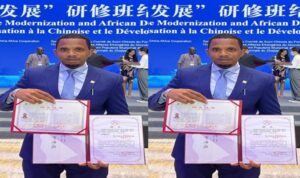 Ceesay doubles as a politician and the leader of the opposition party Citizens' Alliance and is one of the most influential youth leaders in Africa.
Following the achievement, Dr Ceesay tweeted: "Thank you Zhejiang Normal University. I am deeply honoured. This will certainly promote inter-institutional research, facilitate knowledge exchange, enhance Sino-Gambia relations and boost South-South cooperation."