Gaye Njorro, a skill centre that offers training to youths in different marketable skills, has kick-started a 5-day training for youths in the creative arts plying their trade in the craft industry.
The training is being held on the theme 'Promoting Investment in Culture, Creative Arts and Traditional Sports to Enhance Resilience against Climate Change in Local Communities.
Held by Gaye Njorro in partnership with the Gambia government, the Gambia Chamber of Commerce and Industry and funded by the European Union, the training seeks to enhance the capacity of craft dealers in The Gambia by exposing them to innovative methods and products from other countries, such as Ghana.
"I can see that almost everyone is a youth, and I think it is a pride that you are well represented here today," Dr Cherno Omar Barry of International Open University stated in his welcoming remarks. "I am honoured to welcome all of you as it is required to this launching of a one-week training to be conducted by Gaye Njorro Skills Training Academy."
Beaming with delight, Dr Barry said further: "I am elated, as I mentioned earlier, because those who are most important in our community are well represented; they are the youth. I feel that you are the benefactors of this and also the torchbearers who will eventually carry over this knowledge and pass it over to another generation. So it is a pride that we are here."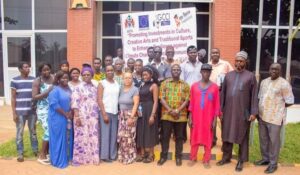 Siaka Fadera, deputy director at the National Centre for Arts and Culture, who deputised the minister of Tourism and Culture (Hamat NK Bah), commended the training, saying: "It is very timely."
The training, he added, would open more doors for Gambian youths in the craft industry as they would be able to make quality and standard products that could compete at the international market.
Mahmoud Lamin Jawla, deputy executive director at the National Youth Council, who deputised the permanent secretary of the Ministry of Youth and Sports, also hailed the initiative, urging the promotion and acquisition of skills in The Gambia.