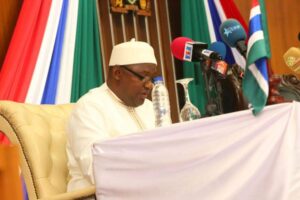 President Adama Barrow has reiterated his government commitment to ensuring that a new Constitution will be democratically drafted as the country transitions into key stage.
"As the Constitution remains a top priority, my government is determined to oversee the crafting of a new Constitution for The Gambia; therefore, the Ministry of Justice will resume work towards tabling a draft Constitution before this august Assembly," Barrow said in his State of the Union Address (SoNA) delivered in Parliament.
In the aftermath of the 2016 Presidential election, the new regime tasked a constitutional review panel with the responsibility to draft a new Constitution. While the project fell short to secure the number of votes needed in the House, up to 23 MPs rejected in September 2020 the draft Constitution.
He went further to indicate that the Ministry of Justice will continue playing a lead role in "the review and harmonisation of existing legislations."
According to the Gambian leader, the ministry will make sure that "a particular focus" will be given to "laws that suppress freedoms and rights."
Meanwhile, Barrow announced that the Anti-Corruption Bill 2020 will be part of the Bills to be tabled before the country's lawmaking body.
The said Bill, he went on, seek to establish the much-awaited Anti-Corruption Commission to take the fight against corruption to a new level.