President Adama Barrow's government is consistently being criticized in the local government community for still refusing to adhere to the Local Government Act, mandating it to give budgetary support to local authorities.
According to the Act, 20 per cent of the councils' budget shall be financed by the central government.
Local governments are currently walking a pretty tight financial rope as they depend largely on rates and taxes barely sufficient to pay salaries.
Despite the turbulent financial waters they found themselves in, some local government authorities have made sure they deliver.
But now President Barrow is contemplating supplanting the mayors of Kanifing Municipality and Banjul with his handpicked governors!
Instead of courting the mayors, Mr. Barrow has now declared a war against them.
Indeed, anyone with the sinister motive of replacing elected political representatives with his/her own cronies is ready for a battle-royal.
And, as President Barrow started to wield the battle-axe against the hardworking representatives of the people of Banjul and Kanifing, we fear he may be fiercely resisted in many quarters.
The Barrow administration has now become synonymous with mediocrity and this contagion has spread to even local governments backed by the central government.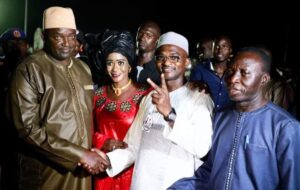 Brikama Area Council is a case in point!
Municipal, city and area councils are not Bantabas for political operatives.
Due to their proximity to the grassroots, local governments were created to complement national efforts for growth and development.
So, the idea of superimposing selected governors on elected mayors will not strike any agreeable chord with any right thinking person.
The President needn't feel bitter about not been seen by KMC and BCC as worthy of a red carpet treatment.
When they rolled out the red carpet to the one they felt was well worth the honour, what's Barrow's quarrel with that!
What the President is expected to do is to compare his government with the local governments under Rugi and Talib and see who's really underperforming.
This will help him to learn one or two things about their approach to development.